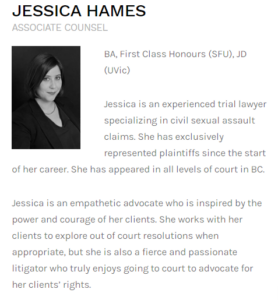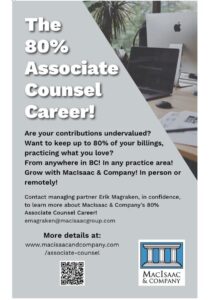 MacIsaac & Company is pleased to announce the latest addition to our team of litigators!
Jessica is an experienced trial lawyer specializing in civil sexual assault claims. She has exclusively represented plaintiffs since the start of her career. She has appeared in all levels of court in BC.  Jessica is an empathetic advocate who is inspired by the power and courage of her clients. She works with her clients to explore out of court resolutions when appropriate, but she is also a fierce and passionate litigator who truly enjoys going to court to advocate for her clients' rights.
Jessica is the latest lawyer to join MacIsaac & Company's "80% Associate Counsel Career" serving clients Province wide from Vancouver.
We are aggressively expanding under this unique program. Not limited to injury lawyers. We are looking for –
Family lawyers
Immigration lawyers
Employment lawyers
Criminal lawyers
Mediators/Arbitrators
Estate Litigators
And more.   If you think you would be a good fit with our rapidly growing firm contact us today!