We Are Hiring, Grow With Us!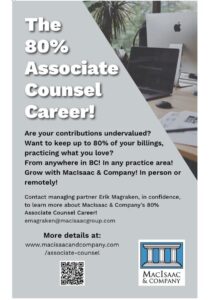 We are hiring!
MacIsaac & Company is proud to announce our "80% Associate Counsel Career!".
One of the most generous pay structures in the legal industry!
We are flipping the owner/employee model on its head.  If you are interested in a career where you can practice what you want, from where you want, without billable targets and the ability to keep up to 80% of your billings check us out!
A model giving you the best of both worlds between solo practice and employment with one of BC's longest established firms.
If you are thinking of branching out on your own give us a look first.  You'll like what you see!
Details here – https://macisaacandcompany.com/associate-counsel/