Congratulations Clawbies2020 Winners and Thank you For the Hall of Fame!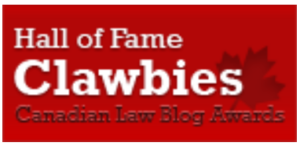 The Canadian Law Blog Awards, which started as a quasi legal marketing blogging tool, have taken on a life of their own and have become a well recognized badge for many contributors in the Canadian legal field for their on line efforts in providing helpful content to the public.
With the awards handed out on New Years Eve the Clawbies pride themselves on being the latest awards of the year.
This morning the 2020 Clawbies were announced. Please check our the full list and follow all the worthwhile legal content providers highlighted there! A lot of great work by great lawyers and other legal professionals.
I was honoured to be 'retired' by the Clawbies losing eligibility for future awards by being inducted into their Hall of Fame. Thank you for this. It has been my pleasure to author thousands of articles here over the past decade plus and I have no intention of stopping still.  I am looking forward to all the future Clawbie winners for the great content they create and the creative ways the legal profession will continue to use social media to connect with the public.